Ahwatukee Relocation Guide
Ahwatukee is an triangle shaped neighborhood of Phoenix, Arizona bordered on the north by South Mountain Park and Baseline Road, on the east by Interstate 10 and the cities of Chandler, Guadalupe, and Tempe, and on the south and west by the Gila River Indian Community. It is the southernmost of the city's 15 urban villages. According to Money Magazine, the 35.8 square-mile (92.7 km²) neighborhood has an approximate population of 88,500.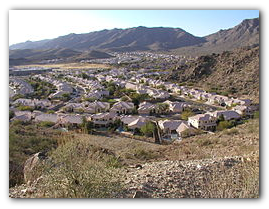 Ahwatukee receives approximately 12 inches (300 mm) of rainfall yearly. Temperatures are mild during the winter months and daily highs average around 67 °F (19 °C). In the summer, daily high temperatures average around 110 °F (43 °C). Snow is extremely rare for the area, but on occasion can be seen on the Sierra Estrella mountain range to the southwest.
Ahwatukee has grown as Phoenix acquired other land parcels to the west, including land owned by International Harvester, which operated a proving ground for earth-moving equipment there from 1947 to 1983.
Ahwatukee resident have a median age of 33 and a median income of $96,700, significantly higher than the national average of $44,512. As of October 2013, the average house value $272,300, up 21.5% from 2012.
Residents rarely have to leave the area due to the fine shops, boutiques and a variety of fabulous restaurants the Ahwatukee area has to offer. Large department stores, abundant grocers, health food outlets, several general retail outlets and specialty stores round out this appealing area.
For more Ahwatukee relocation information, visit…
Ahwatukee Chamber of Commerce – Community Info
Ahwatukee Apartments and Rentals
Ahwatukee Employment Opportunities