Welcome to our Apache Junction Relocation Guide. Find everything from real estate and relocation information, to home loans, career information, schools, insurance, apartments and rentals and... Read More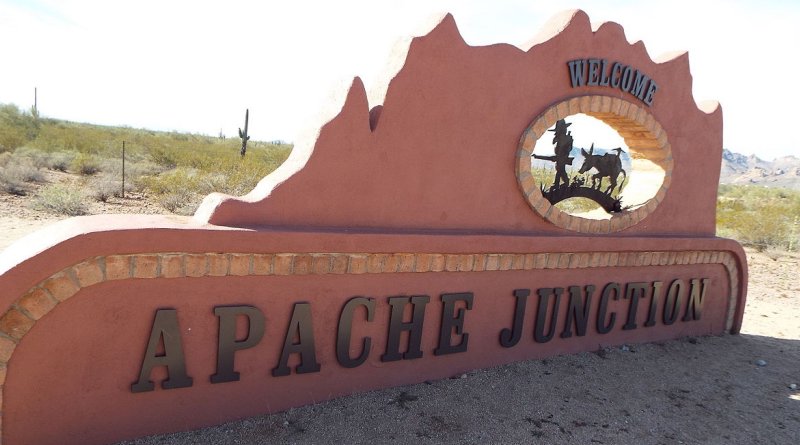 Relo Quick View
Population

39,981

Median Income

$25,048

Unemployment %

5.30%

Average Age

54.7

Male %

48.68%

Female %

51.32%

Avg Home Value

$361,344

Avg Monthly Rental

$1,425
---
Relocating to Apache Junction, Arizona: A Comprehensive Guide to Your New Home
Considering a move to Apache Junction, Arizona? Nestled at the foot of the Superstition Mountains, Apache Junction offers a unique blend of scenic beauty, rich history, and a close-knit community. Whether you're drawn to outdoor adventures, a vibrant arts scene, or a relaxed desert lifestyle, Apache Junction has something to offer. In this article, we will provide you with a comprehensive relocation guide, complete with demographic profiles, economic insights, and other pertinent information to help you make an informed decision about your move to Apache Junction.
Apache Junction Demographic Profile:
Apache Junction is a diverse community with a welcoming atmosphere. Here are some key demographic highlights:
a) Population: As of the 2020 census, Apache Junction's population was approximately 40,000. The city is home to a mix of families, retirees, and outdoor enthusiasts, creating a vibrant and inclusive neighborhood.
b) Age Distribution: Apache Junction has a balanced age distribution, with a notable presence of retirees who are attracted to the area's warm climate and recreational opportunities. The median age is 54.7, making it an ideal place for individuals in various life stages.
c) Education: Apache Junction is served by schools that strive for academic excellence. The area also benefits from nearby colleges and universities, providing access to higher education options.
Economic Landscape:
Apache Junction enjoys a diverse economy with various employment opportunities. Consider the following economic factors:
a) Industries: Apache Junction's economy is driven by a range of industries, including tourism, healthcare, education, retail, and construction. The city's proximity to the Phoenix metropolitan area also provides additional employment options.
b) Job Market: Apache Junction offers a competitive job market, with opportunities across different sectors. Major employers in the area include Apache Junction Unified School District, contributing to the city's economic growth.
c) Cost of Living: The cost of living in Apache Junction is generally lower than the national average, making it an affordable place to live. Housing, utilities, and transportation expenses are typically more budget-friendly compared to larger cities in the region.
Quality of Life and Amenities:
Apache Junction offers a high quality of life, with a range of amenities and recreational opportunities:
a) Outdoor Recreation: With the Superstition Mountains as a backdrop, Apache Junction is a paradise for outdoor enthusiasts. The area offers hiking trails, camping sites, and scenic drives, including the famous Apache Trail.
b) Cultural and Historical Heritage: Apache Junction is rich in history and culture, with attractions such as the Superstition Mountain Museum and the Apache Junction Chamber of Commerce and Visitor Center. The city also hosts events and festivals that celebrate the area's heritage.
c) Community and Entertainment: Apache Junction has a close-knit community feel, with regular community events, farmers' markets, and local fairs. The city offers dining options, shopping centers, and entertainment venues to cater to residents' needs.
Conclusion:
Relocating to Apache Junction, Arizona, offers the opportunity to embrace a relaxed desert lifestyle while enjoying the beauty of the Superstition Mountains. With its diverse community, strong local economy, and abundance of recreational activities, Apache Junction provides a welcoming and enriching environment for individuals and families seeking a unique desert living experience.