Welcome to our Avondale Relocation Guide. Find everything from real estate and relocation information, to home loans, career information, schools, insurance, apartments and rentals and... Read More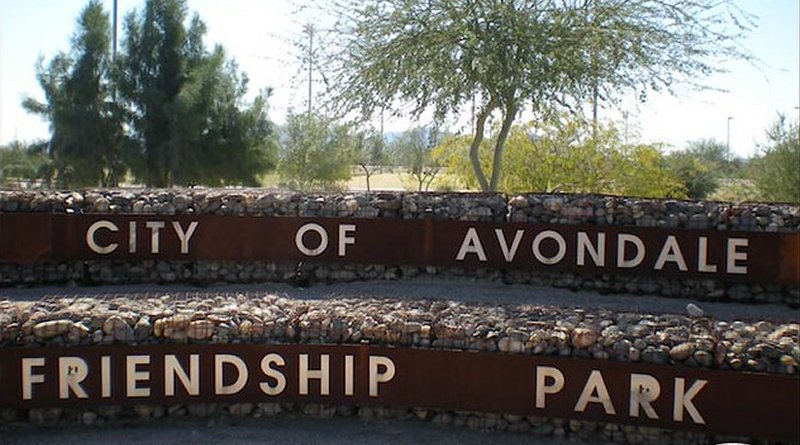 Relo Quick View
Population

90,564

Median Income

$32,819

Unemployment %

3.40%

Average Age

31.6

Male %

49.1%

Female %

50.9%

Avg Home Value

$396,562

Avg Monthly Rental

$1,617
---
Relocating to Avondale, Arizona: A Comprehensive Guide for a Smooth Transition
Are you considering relocating to Avondale, Arizona? Nestled in Maricopa County, Avondale is a vibrant city that offers a high quality of life, diverse cultural experiences, and a thriving economy. Whether you're drawn to the area's pleasant climate, job opportunities, or family-friendly atmosphere, this guide will provide you with essential information to make your move to Avondale a seamless and informed experience.
Demographic Profile to Consider if Relocating to Avondale
Avondale boasts a diverse and growing population. As of the 2020 census, the city had an estimated population of approximately 87,000 residents. The city's demographics reflect a rich blend of ethnicities, cultures, and backgrounds, contributing to a welcoming and inclusive community.
Economic Outlook
Avondale's economy is robust and continues to flourish. The city's strategic location in the Phoenix metropolitan area provides residents with access to a wide range of employment opportunities. Major industries in Avondale and the surrounding region include healthcare, education, manufacturing, retail, and professional services.
Avondale is home to several well-known employers, including Amazon, UPS, and the Avondale School District. Additionally, the nearby Phoenix metropolitan area offers even more career prospects within a reasonable commuting distance.
Real Estate and Housing
The Avondale real estate market offers a diverse range of housing options to suit various preferences and budgets. Whether you're looking for a single-family home, an apartment, or a townhouse, you'll find a variety of options available.
The average cost of housing in Avondale is generally more affordable compared to other cities in the Phoenix metropolitan area. However, it's essential to research current market trends and work with a reputable real estate agent to navigate the housing market and find the perfect home for your needs.
Education and Schools to Consider if Relocating to Avondale
Avondale is served by several highly regarded school districts, providing quality education from pre-kindergarten through high school. The Avondale Elementary School District and the Tolleson Union High School District are two notable districts in the area. Furthermore, Avondale is in close proximity to various colleges and universities, offering a wide range of educational opportunities for individuals pursuing higher education.
Recreational Opportunities
Avondale offers an abundance of recreational activities and attractions for residents of all ages. The city boasts numerous parks, hiking trails, and outdoor recreational areas, providing ample opportunities for outdoor enthusiasts. Popular destinations include Estrella Mountain Regional Park, which offers stunning views and various outdoor activities such as hiking, biking, and camping.
For sports enthusiasts, Avondale is home to Phoenix Raceway, a renowned motorsports track that hosts major NASCAR events. Additionally, the city is conveniently located near professional sports venues in downtown Phoenix, providing easy access to professional basketball, baseball, football, and hockey games.
Community and Lifestyle
Avondale embraces a strong sense of community and offers a family-friendly environment. The city hosts various events and festivals throughout the year, providing opportunities to connect with neighbors and immerse yourself in the local culture. From farmers' markets to concerts in the park, there is always something happening in Avondale.
The city also boasts a wide array of shopping and dining options, ranging from local boutiques to large retail centers. Residents can enjoy a diverse culinary scene that showcases both local flavors and international cuisine. 
Conclusion:
Relocating to Avondale, Arizona, offers a host of benefits, including a thriving economy, diverse population, affordable housing options, excellent schools, and abundant recreational opportunities. Whether you're seeking career growth, a family-friendly environment, or an active outdoor lifestyle, Avondale has much to offer.
As you embark on your journey to Avondale, it's essential to conduct thorough research, connect with local resources, and work with professionals who can assist you in navigating the relocation process. By taking advantage of the city's amenities, engaging with the community, and embracing the vibrant lifestyle, you'll find yourself quickly settling into your new home.
Remember to explore the neighborhoods, visit local attractions, and connect with local organizations to fully immerse yourself in the Avondale experience. The city's welcoming and inclusive community, coupled with its economic opportunities and quality of life, make Avondale a compelling destination for individuals and families looking to make a fresh start.
Relocating to a new city can be both exciting and challenging, but with the right information and resources at your disposal, your transition to Avondale is sure to be a smooth and rewarding one. Welcome to Avondale, Arizona!