Bullhead City Relocation Guide
Bullhead City is located on the Colorado River in Mohave County, Arizona, roughly 90 mi (140 km) south of Las Vegas, Nevada, and directly across the Colorado River from Laughlin, Nevada, whose casinos and ancillary services supply much of the employment for Bullhead City. Bullhead City is located on the southern border of Lake Mohave.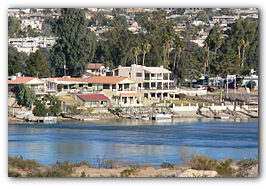 According to 2010 Census Bureau estimates, the population of the city was 39,540. The nearby communities of Laughlin; Needles; Fort Mohave; and Mohave Valley bring the Bullhead area's total population to about 100,000, making it the largest micropolitan area in Mohave County.
The median income for a household in the city was $30,221, and the median income for a family was $33,914. Males had a median income of $23,617 versus $19,564 for females. The per capita income for the city was $16,250. About 11.3% of families and 15.1% of the population were below the poverty line, including 23.2% of those under age 18 and 6.9% of those age 65 or over.
Serving as the economic hub and shopping center for Mohave and Southeastern Clark County, Nevada, Bullhead City has over 5 million people travel through the area annually. The weather of year-round sunshine makes Bullhead City attractive to retirees and vacationing families as well.
Bullhead City has a low desert climate with very low relative humidity and high summer temperatures. On average, it receives about 7 inches of precipitation a year. MOst of the stores, shops, restaurants, theaters and homes are air-conditioned much of the year.
Although known primarily as a desert region, nearly 190 square miles is water, making water sports a favorite among residents and visitors alike. The average daily high temperature in November is 74 degrees. The average daily high temperature annually is a beautiful 88 degrees.
For more Bullhead City relocation information, visit…
Bullhead City Chamber of Commerce
Bullhead City – Official City Website
Bullhead City Apartments and Rentals
Bullhead City Real Estate for Sale
Bullhead City Employment Information