Welcome to our Carefree Relocation Guide. Find everything from real estate and relocation information, to home loans, career information, schools, insurance, apartments and rentals and... Read More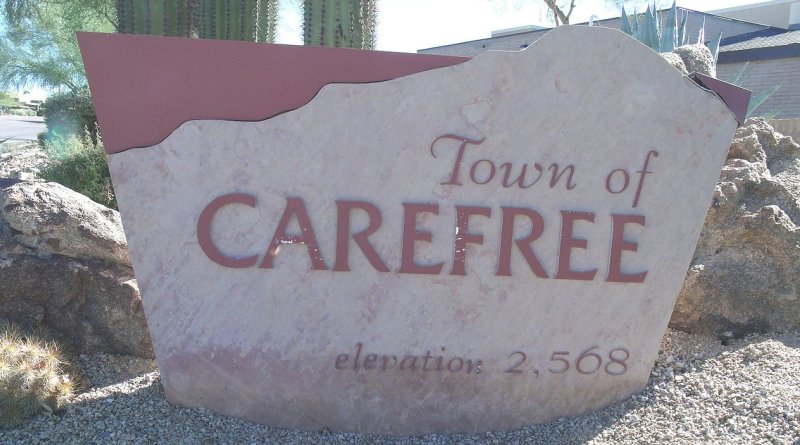 Relo Quick View
Population

3,685

Median Income

$39,038

Unemployment %

1.2%

Average Age

69.4

Male %

50.1%

Female %

49.9%

Avg Home Value

$1,200,712

Avg Monthly Rental

$2,800
---
 Relocating to Carefree, Arizona: Your Comprehensive Relocation Guide
If you're considering a move to Carefree, Arizona, you're in for a treat. Nestled in the scenic Sonoran Desert, Carefree offers a tranquil and picturesque lifestyle. In this comprehensive relocation guide, we will provide you with essential information about Carefree, including its demographic profile, economic environment, and other pertinent details to help you make an informed decision about relocating to this charming desert town.
Demographic Profile to Consider if Relocating to Carefree:
Carefree is known for its small-town charm and close-knit community. Here are some key demographic details:
Population: Carefree has a relatively small population, with an estimated 3,685 residents, contributing to its peaceful and tight-knit community atmosphere.

Age Distribution: The town has a diverse age distribution, with a mix of young families, professionals, and retirees.

Education: Carefree is served by reputable schools and educational facilities, offering quality education to its residents.

Housing: The town offers a range of housing options, including single-family homes, townhouses, and luxury estates. The real estate market in Carefree tends to be more upscale and caters to those seeking a higher-end lifestyle.
Economic Overview to Consider if Relocating to Carefree:
Understanding the local economy is crucial when considering a relocation. Here's an overview of the economic factors in Carefree:
Industries: Carefree's economy is primarily driven by tourism, retail, hospitality, and service industries. The town's proximity to popular tourist destinations contributes to its economic vitality.

Employment Opportunities: While Carefree itself may have limited employment opportunities, nearby cities such as Scottsdale and Phoenix offer a diverse range of job prospects in various sectors.

Cost of Living: Carefree is known for its higher cost of living compared to some other areas in Arizona. The town's upscale lifestyle, amenities, and scenic beauty contribute to the higher cost.
Climate and Recreation:
Carefree's climate is characterized by mild winters and hot summers, offering ample opportunities for outdoor activities and recreation. Here are some highlights:
Natural Beauty: Carefree is surrounded by the stunning Sonoran Desert landscape, providing numerous opportunities for hiking, biking, and exploring nature.

Golfing: The area is a golfer's paradise, with several world-class golf courses nearby, allowing enthusiasts to enjoy their favorite sport year-round.

Cultural Attractions: Carefree is renowned for its art galleries, cultural events, and festivals. The town hosts various art shows, concerts, and cultural celebrations throughout the year.

Proximity to Outdoor Adventures: Carefree's location offers easy access to outdoor adventures such as desert excursions, hot air balloon rides, and horseback riding in nearby regional parks and preserves.
Conclusion:
Relocating to Carefree, Arizona, offers a serene and picturesque lifestyle surrounded by breathtaking natural beauty. With its tight-knit community, upscale housing options, and proximity to cultural attractions and outdoor adventures, Carefree presents an appealing choice for individuals and families seeking a peaceful yet vibrant desert oasis. By considering the information provided in this relocation guide, you can make an informed decision about moving to Carefree and embrace the relaxed and scenic lifestyle that this charming desert town has to offer.