Welcome to our Chandler Relocation Guide. Find everything from real estate and relocation information, to home loans, career information, schools, insurance, apartments and rentals and... Read More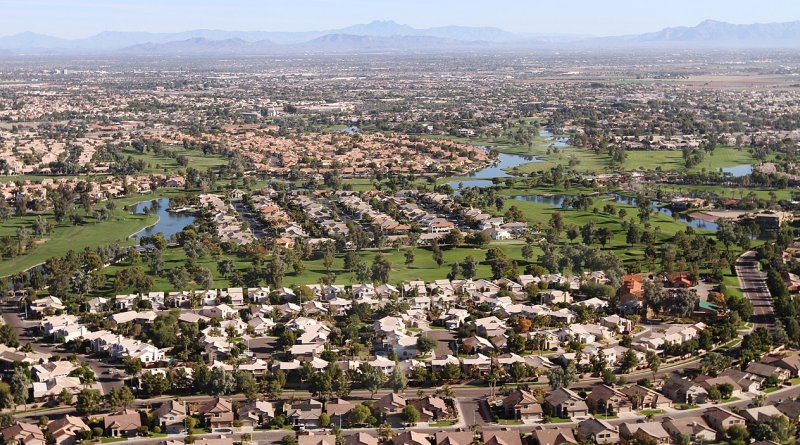 Relo Quick View
Population

279,458

Median Income

$42,597

Unemployment %

3.4%

Average Age

36.7

Male %

49.0%

Female %

51.0%

Avg Home Value

$512,076

Avg Monthly Rental

$2,350
---
Relocating to Chandler, Arizona: A Comprehensive Relocation Guide
Considering relocating to Chandler, Arizona? Look no further! Located in Maricopa County, Chandler offers a thriving economy, a vibrant community, and a desirable desert lifestyle. Whether you're drawn to the area for its job opportunities, excellent schools, or recreational amenities, this relocation guide will provide you with essential information to make an informed decision about moving to Chandler.
Demographic Profile When Considering Relocating to Chandler:
Chandler is a dynamic city with a growing population. As of the latest available data, the population of Chandler is approximately 279,458. The city covers an area of 65.55 square miles, providing plenty of space for residents to enjoy the desert surroundings and engage in various activities.
Economic Overview:
Chandler is known for its robust and diverse economy, making it an attractive destination for job seekers and entrepreneurs alike. The city has emerged as a hub for technology, manufacturing, and healthcare industries. Several Fortune 500 companies have established their presence in Chandler, creating a wealth of employment opportunities.
Key industries driving Chandler's economy include:
Technology: The city has a strong technology sector, with many high-tech companies operating in the area. Intel, one of the largest employers in Chandler, has a major manufacturing facility in the city. Additionally, Chandler is home to a number of startups and research institutions, fostering innovation and growth.

Manufacturing: Chandler has a thriving manufacturing industry, producing a wide range of products, including semiconductors, aerospace components, and medical equipment. The manufacturing sector provides numerous job opportunities and contributes significantly to the local economy.

Healthcare: Chandler is served by top-notch healthcare facilities, providing comprehensive medical services to residents. The city has a number of hospitals, clinics, and specialized healthcare centers, ensuring that residents have access to high-quality healthcare close to home.
Recreational Activities:
Chandler offers a diverse range of recreational activities to suit every interest. The city boasts an extensive park system with well-maintained trails, sports fields, and picnic areas. Veterans Oasis Park and Tumbleweed Park are popular destinations for outdoor enthusiasts, offering opportunities for hiking, biking, and wildlife observation.
Golf enthusiasts will be delighted by the numerous golf courses and country clubs in Chandler, providing challenging play and breathtaking views.
For those seeking cultural experiences, Chandler has a vibrant arts scene, with art galleries, theaters, and cultural events throughout the year. The Chandler Center for the Arts hosts performances ranging from live music to theater productions, ensuring there's always something for everyone.
Community and Lifestyle:
Chandler prides itself on its strong sense of community and active neighborhood involvement. The city organizes various community events and festivals, fostering a tight-knit and welcoming environment. Chandler residents enjoy a high quality of life, thanks to the city's excellent schools, safe neighborhoods, and well-maintained infrastructure.
Chandler also offers a wide range of shopping and dining options. From upscale malls to boutique shops and diverse cuisine, residents can find everything they need within the city limits.
Conclusion:
Relocating to Chandler, Arizona, means embracing a vibrant community, diverse employment opportunities, and a desirable desert lifestyle. With its strong economy, excellent recreational amenities, and commitment to education and community engagement, Chandler offers a high quality of life for residents of all ages. Whether you're looking for career growth, outdoor adventures, or a welcoming community, Chandler has it all.