Scottsdale Relocation Guide
Whether you have an abundance of it, or whether you want to rekindle yours again, Scottsdale is the perfect place to bring your passion for life! From luxurious resorts and championship golf to pampering spas and a vibrant arts and cultural scene, you will find all the outlets you need to embrace life with wild abandon.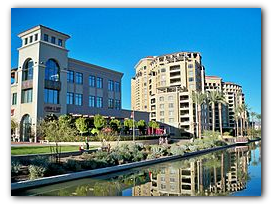 As one of the most acclaimed tourist areas in the state of Arizona, Downtown Scottsdale provides an eclectic mix of southwestern and contemporary art galleries, specialty retail, upscale dining, active nightlife and museum elements for residents and visitors alike. In the middle of the beautiful Arizona desert lays Scottsdale, the fifth most populated city in Arizona with 223,514 citizens. Scottsdale lays within Maricopa County and has been called one of the best places to retire in the U.S.
According to a 2007 estimate, the median income for a household in the city was $70,533, and the median income for a family was $92,289. The per capita income for the city was $49,158. About 3.4% of families and 5.8% of the population were below the poverty line, including 5.4% of those under age 18 and 5.9% of those age 65 or over.
For more Scottsdale relocation information, visit…
Scottsdale Convention & Visitors Website