Welcome to our Yuma Relocation Guide. Find everything from real estate and relocation information, to home loans, career information, schools, insurance, apartments and rentals and... Read More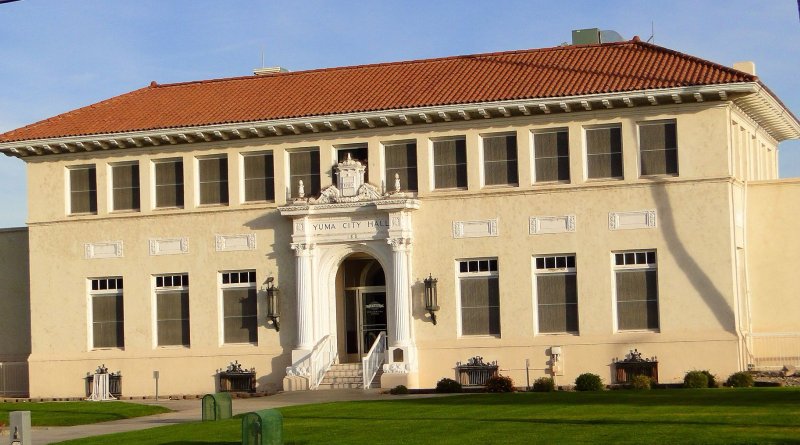 Relo Quick View
Population

97,093

Median Income

$27,171

Unemployment %

14.3%

Average Age

31.8

Male %

52.5%

Female %

47.5%

Avg Home Value

$282,170

Avg Monthly Rental

$1,500
---
Relocating to Yuma, Arizona: Discovering a Desert Oasis with Rich History and Sunny Vibes
If you're seeking a unique desert destination with a rich historical heritage and a warm, sunny climate, Yuma, Arizona, is the perfect place for you. Situated along the Colorado River and surrounded by breathtaking desert landscapes, Yuma offers a vibrant community, diverse recreational opportunities, and a relaxed lifestyle. In this comprehensive relocation guide, we will delve into the demographic profile, economic insights, and other pertinent information to help you make an informed decision about relocating to Yuma.
Demographic Profile to Consider Relocating to Yuma:
Yuma is a thriving city with a population of approximately 97,093 residents. Known for its diverse community, the city attracts a mix of families, retirees, and military personnel from nearby Marine Corps Air Station Yuma. The median age in Yuma is 31.8 years, creating a multi-generational atmosphere that fosters a sense of community and belonging.
Cost of Living:
One of the significant advantages of relocating to Yuma is its affordable cost of living. Housing prices in Yuma are generally lower compared to other cities in Arizona, making it an attractive destination for homeownership. The city offers a range of housing options, including single-family homes, townhouses, and apartments, catering to various budgets and preferences. Other everyday expenses, such as utilities, transportation, and healthcare, are also typically lower compared to national averages.
Economy and Job Market:
Yuma's economy is diverse and resilient, driven by sectors such as agriculture, manufacturing, healthcare, education, and government. The agricultural industry plays a vital role in the local economy, with Yuma being one of the largest producers of winter vegetables in the United States. Additionally, the presence of military installations, healthcare facilities, and educational institutions contributes to job opportunities in the area.
Education and Schools:
Yuma offers quality education options for families with children. The city is served by several school districts, including the Yuma Union High School District and the Crane Elementary School District. Yuma is also home to Arizona Western College, a community college that provides a variety of educational programs and transfer opportunities for students.
Recreation and Outdoor Activities:
Yuma's sunny climate and stunning desert landscapes make it an outdoor enthusiast's paradise. The city is surrounded by rugged mountains, vast deserts, and the picturesque Colorado River, offering abundant opportunities for hiking, biking, boating, fishing, and camping. Yuma is also known for its numerous golf courses, parks, and sports facilities, ensuring that residents have plenty of options for staying active and enjoying the outdoors.
Historical and Cultural Attractions:
Yuma has a rich historical heritage that is celebrated through its numerous historical sites and attractions. The Yuma Territorial Prison State Historic Park, the Yuma Crossing National Heritage Area, and the Yuma Quartermaster Depot State Historic Park provide insights into the city's past and its significance in the development of the Southwest. Yuma also hosts various cultural events, festivals, and art exhibitions throughout the year, showcasing the city's vibrant arts and culture scene.
Healthcare Facilities:
Access to quality healthcare is an important consideration when relocating. Yuma is equipped with several healthcare facilities, including hospitals, medical centers, and specialized clinics. Yuma Regional Medical Center is the largest healthcare provider in the region, offering a comprehensive range of medical services.
Transportation and Commuting:
Yuma benefits from a well-connected transportation infrastructure, making commuting and getting around the city convenient. The Yuma International Airport offers domestic flights and connects residents to larger airports for international travel. The city has an extensive network of highways, including Interstate 8 and US Route 95, facilitating travel to neighboring cities and attractions. Yuma also has a public transportation system, Yuma County Area Transit (YCAT), which provides bus services within the city and surrounding areas.
Climate:
Yuma boasts a desert climate characterized by hot, dry summers and mild winters. The city enjoys more than 310 days of sunshine per year, making it an ideal destination for those who appreciate a warm and sunny climate. Summers can be extremely hot, with temperatures frequently exceeding 100 degrees Fahrenheit. Winters are mild and pleasant, with temperatures ranging from the 60s to 70s.
Community and Lifestyle:
Yuma has a close-knit and welcoming community that embraces a relaxed and laid-back lifestyle. The city offers a wide range of recreational activities, including community events, farmer's markets, and cultural festivals. Residents can explore historic downtown Yuma, visit art galleries and museums, or enjoy the vibrant culinary scene with a variety of dining options. The affordable cost of living, strong sense of community, and unrivaled natural beauty make Yuma an attractive place to live for individuals and families seeking a balance between a relaxed lifestyle and exciting outdoor adventures.
Conclusion:
Relocating to Yuma, Arizona, opens up a world of opportunities to enjoy the desert's natural beauty, embrace a rich historical heritage, and experience a warm and welcoming community. With its affordable cost of living, diverse recreational activities, and strong job market, Yuma offers a quality of life that is hard to find elsewhere. By considering the demographic profile, economic insights, and other pertinent information provided in this relocation guide, you can make an informed decision and embark on a fulfilling journey in the vibrant city of Yuma.