Welcome to our Berkeley Relocation Guide. Find everything from real estate and relocation information, to home loans, career information, schools, insurance, apartments and rentals and... Read More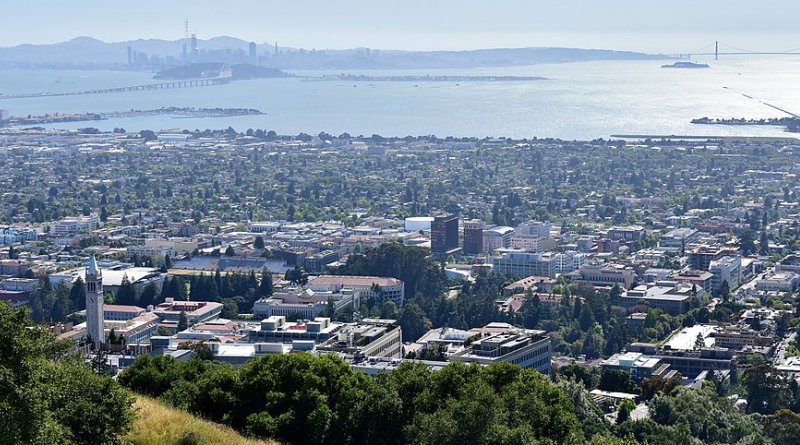 Relo Quick View
Population

117,145

Median Income

$39,350

Unemployment %

3.9%

Average Age

32.1

Male %

48.4%

Female %

51.6%

Avg Home Value

$1,402,816

Avg Monthly Rental

$2,850
---
Moving to Berkeley, California: A Comprehensive Guide
Considering moving to Berkeley, California? You're about to discover a city that is renowned for its vibrant culture, academic excellence, and progressive mindset. This comprehensive relocation guide provides valuable information about Berkeley's demographics, economy, and other pertinent details to help you navigate your move. Whether you're drawn to its intellectual atmosphere, artistic scene, or commitment to sustainability, Berkeley offers a unique and enriching experience. Read on to learn everything you need to know before making Berkeley your new home.
Demographic Profile For Considering Moving to Berkeley:
Berkeley is a diverse and inclusive city located in Alameda County. With a population of approximately 123,000 residents (as of 2021), it is known for its intellectual and cultural vibrancy. The city attracts individuals from various backgrounds, resulting in a rich tapestry of ethnicities, including White, Asian, Hispanic, African American, and more. Berkeley's diverse community fosters an atmosphere of acceptance and celebrates different cultures.
Economic Overview:
Berkeley's economy is primarily driven by its renowned educational institutions, including the University of California, Berkeley (UC Berkeley). The university serves as a major employer in the city and contributes significantly to the local economy through research, innovation, and education-related activities.
Berkeley is also known for its thriving arts and cultural scene, with numerous theaters, galleries, and music venues. The arts sector, including performing arts, visual arts, and creative industries, plays a vital role in the city's economic landscape.
Additionally, Berkeley has a strong focus on sustainability and green initiatives. The city promotes environmentally friendly practices and is home to businesses specializing in renewable energy, green technology, and eco-friendly products and services.
Quality of Life:
Berkeley offers a high quality of life with its intellectual stimulation, natural beauty, and commitment to sustainability. The city's proximity to San Francisco, combined with its own unique character, makes it an attractive destination for professionals, academics, and artists.
Berkeley is renowned for its cultural events, lectures, and performances, providing residents with a wealth of intellectual and artistic experiences. The city is also home to various parks, gardens, and hiking trails, allowing residents to enjoy outdoor activities and connect with nature.
Education is highly valued in Berkeley, and the city boasts excellent public and private schools at all levels. The presence of UC Berkeley contributes to a stimulating academic environment and fosters a spirit of innovation.
Berkeley is committed to sustainability and environmental consciousness. The city supports green initiatives, bike-friendly infrastructure, and encourages residents to embrace eco-friendly practices. The local food scene is diverse and reflects Berkeley's emphasis on organic, locally sourced, and sustainable cuisine.
Housing options in Berkeley include a mix of historic homes, apartments, and condominiums. The real estate market can be competitive due to high demand, but the city offers a range of housing choices suitable for different lifestyles and budgets.
Conclusion About Moving to Berkeley:
Relocating to Berkeley, California, offers a unique blend of intellectual stimulation, cultural richness, and a commitment to sustainability. The city's diverse community, renowned educational institutions, and thriving arts scene create a dynamic and inclusive environment. Berkeley's focus on green initiatives and outdoor recreational opportunities make it an ideal destination for those seeking a sustainable and nature-connected lifestyle. If you're ready to embrace a city that values knowledge, creativity, and environmental consciousness, Berkeley may be the perfect place for you to call home.