Welcome to our Los Angeles Relocation Guide. Find everything from real estate and relocation information, to home loans, career information, schools, insurance, apartments and rentals and... Read More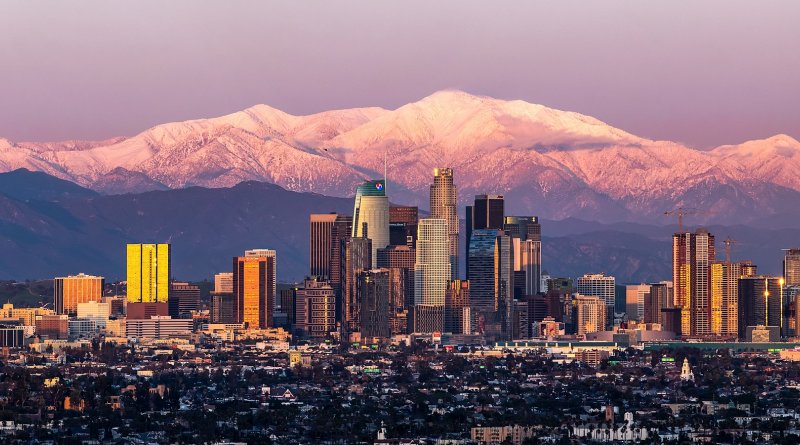 Relo Quick View
Population

3,769,485

Median Income

$30,225

Unemployment %

5.5%

Average Age

35.9

Male %

49.8%

Female %

50.2%

Avg Home Value

$907,874

Avg Monthly Rental

$2,950
---
Relocating to Los Angeles, California: A Comprehensive Guide to Your New Home
If you are considering moving to Los Angeles, California, you are about to embark on an exciting journey. As one of the largest and most diverse cities in the United States, Los Angeles offers a wealth of opportunities and experiences. In this comprehensive relocation guide, we will provide you with key information about Los Angeles' demographics, economic landscape, and other pertinent details to help you make an informed decision about moving to this iconic city.
Overview of Los Angeles:
With its stunning coastline, diverse neighborhoods, and a thriving entertainment industry, Los Angeles is a city that captures the imagination. Known as the "City of Angels," it is home to over four million residents from various cultural backgrounds, creating a vibrant and multicultural atmosphere.
Demographic Profile To Consider if Moving to Los Angeles:
Los Angeles is a melting pot of cultures, languages, and ethnicities. Key demographic highlights include:
– Diversity: Los Angeles is renowned for its diversity, with a rich tapestry of cultures from around the world. This diversity is reflected in the city's neighborhoods, cuisine, and cultural events.
– Population: As one of the most populous cities in the United States, Los Angeles offers a wide range of opportunities for social and professional connections.
– Age Distribution: Los Angeles has a relatively young population, with a significant number of millennials and young professionals attracted to the city's creative industries and job opportunities.
Economic Landscape:
Los Angeles boasts a diverse and robust economy that extends beyond the entertainment industry. Key economic factors include:
– Entertainment Industry: Los Angeles is the global hub for the entertainment industry, with major film studios, television production companies, and music labels. It offers numerous career opportunities for those interested in media, arts, and creative fields.
– Technology and Innovation: Los Angeles has experienced significant growth in the technology sector, with a thriving startup ecosystem and a strong presence of established tech companies.
– International Trade: The Port of Los Angeles is one of the busiest ports in the world, contributing to the city's economy and serving as a gateway for international trade.
Housing and Cost of Living:
Los Angeles offers a diverse range of housing options, from high-rise apartments in the city center to suburban neighborhoods and beachfront properties. However, it's important to note that the cost of living in Los Angeles can be relatively high compared to national averages. Housing prices and rental rates vary depending on the neighborhood, with some areas being more affordable than others.
Recreation and Amenities:
Los Angeles is renowned for its endless recreational opportunities and cultural attractions. Highlights include:
– Beaches: With its stunning coastline along the Pacific Ocean, Los Angeles offers a plethora of beautiful beaches for outdoor activities, sunbathing, and water sports.
– Outdoor Activities: The city is surrounded by mountains and national parks, providing opportunities for hiking, biking, and exploring nature.
– Cultural Landmarks: Los Angeles is home to world-famous cultural landmarks, such as the Getty Center, Griffith Observatory, and the Hollywood Walk of Fame. The city also hosts numerous museums, art galleries, and theaters.
Conclusion About Moving to Los Angeles:
Relocating to Los Angeles opens the door to a dynamic and diverse city that embraces creativity, innovation, and cultural experiences. From its thriving entertainment industry to its beautiful beaches and diverse neighborhoods, Los Angeles offers a unique lifestyle that attracts people from all walks of life.