Welcome to our Modesto Relocation Guide. Find everything from real estate and relocation information, to home loans, career information, schools, insurance, apartments and rentals and... Read More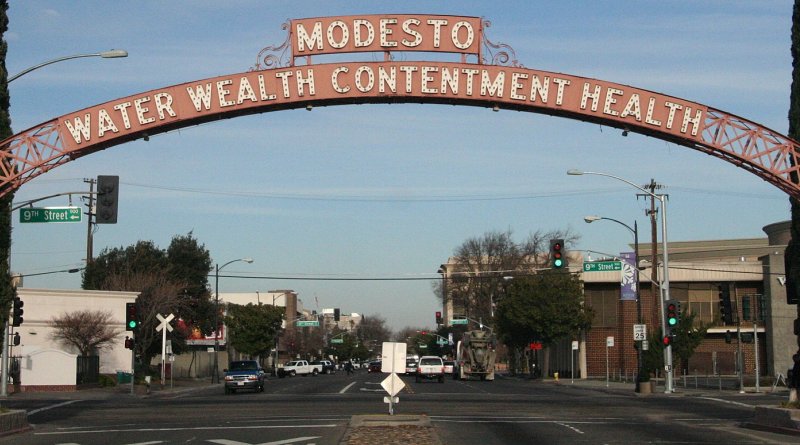 Relo Quick View
Population

218,771

Median Income

$30,039

Unemployment %

6.8%

Average Age

34.1

Male %

49.1%

Female %

50.9%

Avg Home Value

$427,506

Avg Monthly Rental

$1,938
---
Relocating to Modesto, California: A Comprehensive Relocation Guide
If you're considering moving to California's Central Valley, Modesto is a city worth considering. Located in Stanislaus County, Modesto offers a blend of small-town charm, affordable housing, and a thriving agricultural and manufacturing economy. In this relocation guide, we will delve into the demographic profile, economic landscape, and other pertinent information that can assist you in making an informed decision about moving to Modesto.
Demographic Profile For Considering Moving to Modesto:
Modesto is a diverse and growing city, known for its friendly community atmosphere. As of the latest available data, the estimated population of Modesto is approximately 215,000 residents. The city attracts individuals and families of various age groups, with a median age of around 35 years.
Economic Overview:
Modesto is situated in the heart of California's agricultural region, which plays a significant role in the local economy. The city is home to numerous agricultural businesses, including farming, food processing, and warehousing. Additionally, Modesto has a strong manufacturing sector, with industries such as metal fabrication, food production, and transportation equipment manufacturing.
The city also offers employment opportunities in healthcare, education, retail, and professional services. Major employers in Modesto include E. & J. Gallo Winery, Memorial Medical Center, Modesto City Schools, and Stanislaus County.
Housing Market:
One of the key advantages of moving to Modesto is the affordable housing market compared to other parts of California. The city offers a range of housing options, from single-family homes to apartments and townhouses. The median home price in Modesto is lower than the state average, making it an attractive destination for first-time homebuyers and those looking for more affordable housing options.
Education and Schools:
Modesto is served by the Modesto City Schools District, which encompasses a number of elementary, middle, and high schools. The city is also home to Modesto Junior College, offering a variety of academic and vocational programs. For those seeking higher education opportunities, California State University, Stanislaus is located nearby in Turlock.
Recreation and Lifestyle to Consider if Moving to Modesto:
Modesto provides plenty of recreational opportunities and a relaxed lifestyle. The city features numerous parks, sports fields, and community centers, offering residents opportunities for outdoor activities, including picnicking, hiking, and sports. Modesto is also known for its vibrant arts scene, with theaters, galleries, and live music venues.
The downtown area of Modesto offers a range of dining options, boutique shops, and entertainment venues. The city hosts various events and festivals throughout the year, showcasing local culture, cuisine, and music.
Conclusion About Moving to Modesto:
Relocating to Modesto, California, offers a unique blend of affordability, a strong sense of community, and opportunities in the agricultural and manufacturing sectors. With its diverse population, affordable housing options, quality education, and recreational amenities, Modesto presents an appealing destination for individuals and families seeking a relaxed lifestyle in California's Central Valley.