Fort Collins Relocation Guide
Our Fort Collins relocation guide finds Fort Collins situated at the eastern base of the "Front Range" of the Rocky Mountains, approximately 65 miles north of Denver and 45 miles south of Cheyenne, Wyoming.The Cache la Poudre River flows through the city, providing agricultural and recreational benefits to local residents.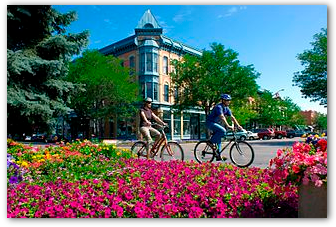 Fort Collins is a Home Rule Municipality situated along the Colorado Front Range, and is the county seat and most populous city of Larimer County, Colorado. With a 2010 census population of 143,986, it is the fourth most populous city in Colorado. Fort Collins is a large college town, home to Colorado State University. It was named Money magazine's Best Place to Live in the U.S. in 2006, #2 in 2008, and #6 in 2010.
The median income for a household in the city was $44,459, and the median income for a family was $59,332. Males had a median income of $40,856 versus $28,385 for females. The per capita income for the city was $22,133. About 5.5% of families and 14.0% of the population were below the poverty line, including 8.3% of those under age 18 and 5.8% of those age 65 or over.
The City of Fort Collins publishes the "Recreator," a popular seasonal guide to recreational activities and facilities in Fort Collins. The "Recreator" has continually been published for over 30 years. It is distributed via direct mail, online and locally at libraries, recreation centers and businesses.
Northern Colorado Business Report is also housed in Fort Collins, and is the largest business-to-business newspaper in Northern Colorado. It covers Larimer and Weld Counties.
For more information regarding Fort Collins Relocation, please fill out our Relo Info Request form.
For more information about moving to Colorado, visit our Colorado Relocation Guide.