Back in 1986, Grants Pass, Oregon was awarded the prestigious title of "All American City". It doesn't take long to understand why. Nestled in the Cascade, Siskiyou and coastal mountain ranges, beauty surrounds.
This region is referred to as the Rogue River Valley due to the famous river which winds through the entire valley.
As the main shopping hub for Josephine County, Grants Pass serves a market area of approximately 90,000 people.  Fred Meyers, Wal-Mart and Home Depot are a few of the big draws for shopping,  and the downtown area is a step back in time with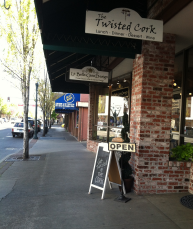 brick buildings dating back to the late 1800's in a backdrop of beautiful mountains. Grants Pass is a family oriented community which boasts year round festivals and fairs.
This scenic region offers everything from golfing, hiking, fishing, rafting, hot air ballooning, world class live theater, quaint festivals, antiquing and much more.
Art has become a big part of the area.  "The community is becoming a melting pot of artists" according to Chris Pondelick, executive director of the Grants Pass Museum of Art.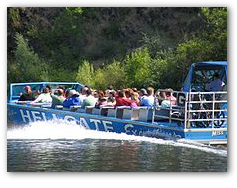 Pondelick pointed out that the museum welcomed over 13,000 visitors in 2011, ranking 12th nationally when measured by economic creativity from local jobs in the Arts.
The Outdoor Growers Market is a favorite with residents and tourists alike and is second only to the Rogue River as an area attraction .  Open from mid-March until Thanksgiving, the market showcases the finest fresh fruits and vegetables grown in the Southern Oregon region, as well as secondary wood products, gourmet specialty foods, artists and crafters.
Enjoy the fun…Whether looking for sporting adventures, family fun, romantic escapes or something in between, you will find it all here.
Did You Know…
Early trappers and settlers referred the local Indians as "The Rogues" because of their willingness to fight for their rights.  This is where the Rogue River derives its name. Grants Pass was named in honor of Ulysses S. Grant, our 18th President. Josephine County was named for Josephine Rollins Ort. In 1851, her party was credited with the first discovery of gold in Southern Oregon. This event brought an influx of families seeking their fortunes in gold. The Rogue River,  has been the backdrop for a number of Hollywood movies starring famous personalities such as John Wayne, Katherine Hepburn and others.