Welcome to our Springdale Relocation Guide. Find everything from real estate and relocation information, to home loans, career information, schools, insurance, apartments and rentals and... Read More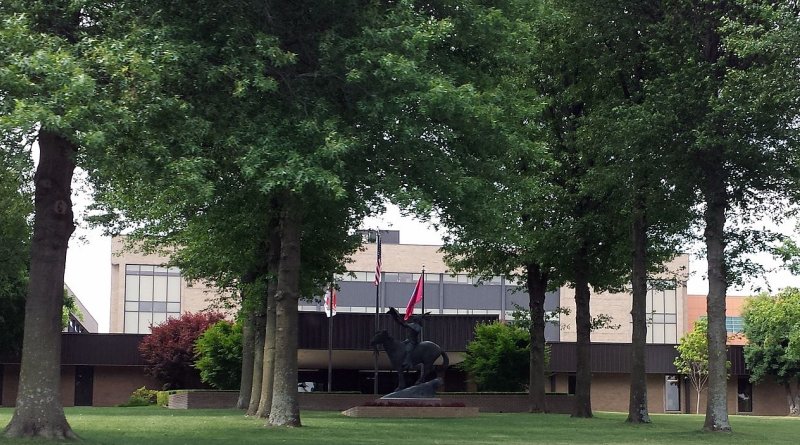 Relo Quick View
Population

88,049

Median Income

$27,332

Unemployment %

2.3%

Average Age

31.8

Male %

50.66%

Female %

49.34%

Avg Home Value

$297,700

Avg Monthly Rental

$1,595
---
Moving to Springdale, Arkansas: Embrace the Charm of the Ozarks
If you're considering moving to Springdale, Arkansas, you're about to discover a city that combines small-town charm with the beauty of the Ozarks. This comprehensive relocation guide will provide you with valuable information about Springdale, including its welcoming community, economic opportunities, and unique attractions. Whether you're seeking a close-knit community, outdoor adventures, or career prospects, Springdale has something for everyone.
Demographic Profile For Considering Moving to Springdale:
Springdale, located in Washington and Benton counties, is a vibrant city with a diverse population. Understanding the demographic profile of the city will give you insight into the community you'll be joining:
Population: As of the latest available data, Springdale has an estimated population of around 80,000 residents. The city has experienced substantial growth in recent years while preserving its friendly and tight-knit atmosphere.
Age Distribution: Springdale boasts a diverse age distribution, with a mix of young families, professionals, and retirees. The city offers a range of amenities and activities to cater to residents of all ages.
Cultural Diversity: Springdale embraces cultural diversity, with residents representing various ethnic backgrounds. The city's rich tapestry of cultures contributes to a vibrant and inclusive community.
Economic Outlook:
Springdale has a thriving economy with a variety of industries and employment opportunities. Here are some key factors to consider regarding the city's economic outlook:
Business Environment: Springdale provides a favorable business climate, attracting companies from sectors such as retail, manufacturing, healthcare, and food processing. The city actively supports entrepreneurship and offers resources for business development.
Job Market: Springdale's job market is diverse and robust. Major employers include Tyson Foods, J.B. Hunt Transport, and the Northwest Arkansas Healthcare System. The city offers opportunities in fields such as healthcare, education, logistics, agriculture, and professional services.
Cost of Living: The cost of living in Springdale is generally affordable compared to national averages. Housing, utilities, and transportation costs are reasonable, allowing residents to enjoy a comfortable lifestyle. The city provides a balance between affordability and access to modern amenities.
Lifestyle and Recreation:
Springdale offers a wealth of recreational activities and cultural experiences. Here are some highlights:
Outdoor Recreation: Surrounded by the picturesque Ozark Mountains, Springdale offers abundant opportunities for outdoor enthusiasts. Residents can enjoy hiking, biking, fishing, camping, and exploring the beautiful natural landscapes. Nearby attractions like Beaver Lake and the Ozark National Forest provide additional recreational options.
Cultural and Entertainment Options: Springdale celebrates its cultural heritage through various events and festivals. The city is home to the Shiloh Museum of Ozark History, which showcases the region's rich history and traditions. Additionally, Springdale hosts live music performances, art exhibits, and theater productions throughout the year.
Education and Healthcare: Springdale prioritizes education, with a well-regarded public school system and private school options. The city is also home to Northwest Arkansas Community College, providing higher education opportunities. Access to quality healthcare is readily available through multiple medical facilities and hospitals in the area.
Conclusion about Moving to Springdale:
Relocating to Springdale, Arkansas, offers the opportunity to embrace a close-knit community, explore breathtaking natural landscapes, and enjoy a thriving economy. The city's diverse population, strong job market, and affordable cost of living make it an attractive destination for
Along with Bentonville, Rogers, and Fayetteville, Springdale is one of four primary cities that comprise the Northwest Arkansas region, the state's second most populous metropolitan area. Springdale is the central city in Northwest Arkansas, situated in the southeastern center of the Springfield Plateau, the westernmost portion of the Ozark Plateau. Springdale is the second-largest city in Northwest Arkansas and currently Arkansas's fourth-largest city, behind Little Rock, Fort Smith, and Fayetteville.